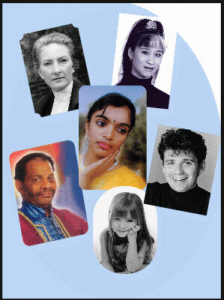 About Our Artistes - We have so many types of supporting artistes, walk-ons or extras on our books that there was no point in listing all 1500+ of them here. If you require artistes for your project do not hesistate to email or call us and we can email you jpegs of people specific to your needs.
We have some of the cutest children on our books, all extremely easy going and relaxed in the company of other children and adults.
Most of our little ones have had modelling experience as well as worked as extras in the past.
Medieval damsels, school mistresses, police women or princesses. We can provide you with experienced artistes with the right look for your project.


Are you looking for someone to be a business man, doctor, a hard-man, or barrister. We have some great faces you might think are perfect for the job including wheelchair users, ethnic minorities and talented stilt walkers.
We Are Not Acceptting New Applications For Extras Or Child Models At Present Because Our Books Are Full.